Prolongations à la
Galerie de l'Instant
de l'exposition
Rocks Off
de Dominique Tarlé, dont le tour de force fut de suivre les
Rolling Stones
à Nellcôte lors de l'enregistrement d'
Exile On Main Street
en 1971.
Mimikaki
reviet à l'occasion sur quelques versions tordues de titres des Glimmer Twins.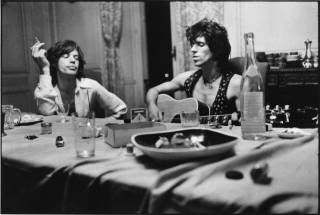 En 1991, l'équipe de
The Grid
, constituée du grand
Dave Ball
et de
Richard Norris
(futur
Beyonds The Wizard Sleeve
avec
Erol Alkan
et
The Time And Space Machine
en solitaire), produit la pop du gang déluré de Sheffield
World Of Twist
pour un résultat épatant.
WORLD OF TWIST She's A Rainbow (Circa Records Ltd. - 1991)
Prenant pour base
Emotional Rescue
, les new-yorkais
In Flagranti
accélèrent le tempo et insèrent le piano de
She's A Rainbow
pour un edit fantastique.
IN FLAGRANTI Emotional R (Mindless Boogie - 2007)
Exposition
Rocks Off
à voir jusqu'au 31 octobre à
la Galerie de l'Instant
46, rue de Poitou
75003 Paris